3 Must-Have Trip Planner Apps and Tools
Ready to plan your next getaway to Mark Twain Lake Jellystone Park™, but not looking forward to the trip planning part? Make planning your next camping road trip easy with these must-have trip planner apps and tools. Keep track of the weather, find the best fuel prices, chart an RV-friendly route, and more using these nifty resources.
Recommended Trip Planner Apps
Weather Apps
Weather plays a crucial role in trip planning. It can affect the departure time/date, a route change, and stops along the way. Exercise caution on your travels. Stay updated on the weather before and during your trip with reliable apps like The Weather Channel, Weather Underground, or AccuWeather. Knowing the forecast can help you prepare for specific conditions and avoid hazardous weather altogether.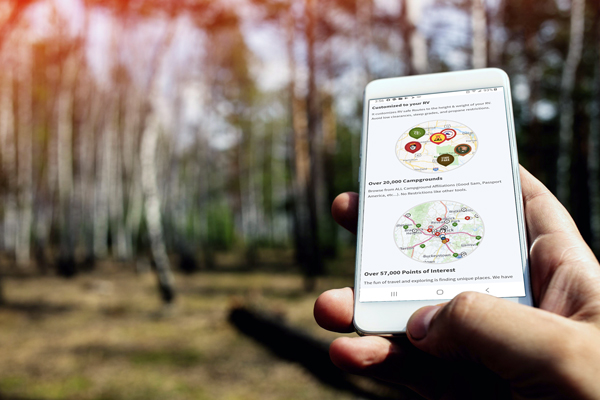 Gas Buddy
Locate fuel stations along your route with GasBuddy. The free app provides real-time price information, so you know exactly where to get the best deal. GasBuddy covers 150,000+ stations in North America and is one of the highest-rated trip planner apps focused on gas savings. Plus, when you join the free savings program, Pay with GasBuddy, you get a discount on every gallon of gas or diesel pumped. What a great resource to help stay on top of your road trip budget and take advantage of the best gasoline deals in your area, wherever you might be!
RV Trip Wizard
For those seeking an RV-friendly trip planning tool, consider the web-based trip planner RV Trip Wizard. RV Trip Wizard helps users locate RV parks, overnight parking options, fuel stops, rest areas, dump stations, points of interest, and more. In addition, it customizes RV safe routes to the height & weight of your RV and steers away from potential RV speed bumps like low clearances, steep grades, and propane restrictions. Plus, RV Trip Wizard seamlessly integrates its trips into its accompanying RV Life-RV Safe GPS App. So RVers can get routing right on their phone or tablet.
Part of the Destination is the Journey
Trip planning can seem a bit stressful, but it doesn't have to be. Using trip planner apps and tools like the ones mentioned can make it so simple and so rewarding once you reach your vacation destination at Mark Twain Lake Jellystone Park™. Arrive stress-free and ready for camping adventures with the family the next time you travel with these fantastic resources!
We Look Forward to Your Safe Arrival!