Camping Safety Tips For The Family – 5 Ways To Be Safe and Prepared for Your Next Getaway
At Mark Twain Lake Jellystone Park™, we take camping to a whole new level. Campers can escape to nature among the trees, lakes, and starry skies while still enjoying all the creature comforts of home, along with a slew of thrilling attractions and exciting events. It's the ultimate vacation destination, but amid the excitement of preparing for your next adventure, it's important to keep camping safety in mind for the whole family. The following tips are ways to help you and the family plan a safe and enjoyable camping trip any time you stay with us.
Safety Camping Tips For Every Family Member
Tip 1: Keep abreast of the weather forecast both day and night.
Stay up-to-date on the weather forecast using reliable apps like The Weather Channel and Weather Underground. Pack for both day and night as temps can drop pretty drastically. This means you may need to include hats and sunscreen during the day and flannel pajamas after dark.
Tip 2: Have a First Aid Kit handy.
A first aid kit is a must when you're camping. Cuts, bug bites, and bruises are just a part of life, so you always want to be prepared if something goes wrong, however minor. You can create your own kit or simply purchase one.
The American Red Cross suggests the following tips:
Include any personal items such as medications and emergency phone numbers or other items your healthcare provider may suggest.
Check the kit regularly.
Check expiration dates and replace any used or out-of-date contents.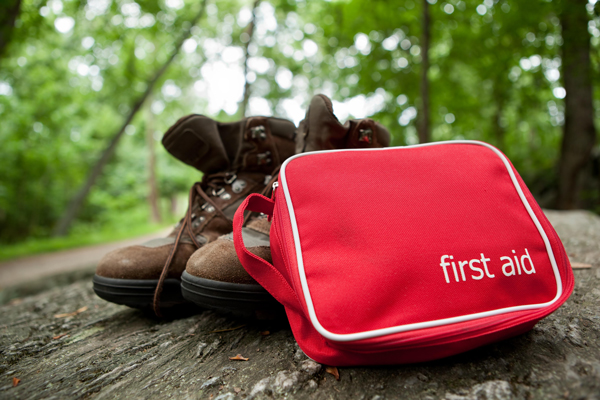 Tip 3: Be safe around fires.
One of the best parts of camping is sitting around the campfire. While fire rings are provided for the safety of each camper and the grounds, there are additional ways the family can practice fire safety like:
Only use the designated fire ring.
Never leave a fire unattended.
Keep a close eye on the little ones but also show them how to be safe around fires.
Keep fires small and manageable.
Put the fire out before leaving or going to sleep, making sure to drown all the embers.
Tip 4: Keep your pets on a leash.
Don't forget Fido! He's a member of the family and included in camping safety. For the safety of your pup and the safety of others, always keep your pet on a leash.
Tip 5: Bring along flashlights to be used at night.
If you or anyone in your camping party needs to use the shower or restroom facilities at night, bring along a flashlight and go together as a pair or group. Watch your step along the way.
Practice More Camping Safety Tips
While this is only a sample of camping safety tips, it is a start! Before heading out on your next getaway at Mark Twain Lake Jellystone Park™, talk to your family about camping safety and practice some of these and other safety skills throughout your adventurous camping trip!
Stay Safe and Have Fun on Your Next Camping Trip!