5 Delicious Camping Recipes to Try on Your Next Trip
Camping is an excellent opportunity to attempt new and creative recipes, and it can be a fun and rewarding experience to cook over an open fire or camp stove. Whether you stay in a spacious RV or tent campsite or cozy cabin, on your next trip to Mark Twain Lake Jellystone Park™, make use of your site's fire ring or grill and try these five delicious camping recipes.
5 Camping Recipes to Try
Campfire Nachos
This easy and tasty recipe is perfect for a group of campers. Simply layer tortilla chips, beans, cheese, and your choice of toppings (such as ground meat, diced tomatoes, and onions) in a foil packet. Place the packet in the campfire coals for about 10-15 minutes or until the cheese is melted.
Grilled Peanut Butter and Jelly
This twist on a classic sandwich is sure to be a hit with kids and adults alike. Spread peanut butter and jelly on two slices of bread, and place them on the grill for about 1-2 minutes on each side, or until the bread is toasty and the peanut butter and jelly are warm.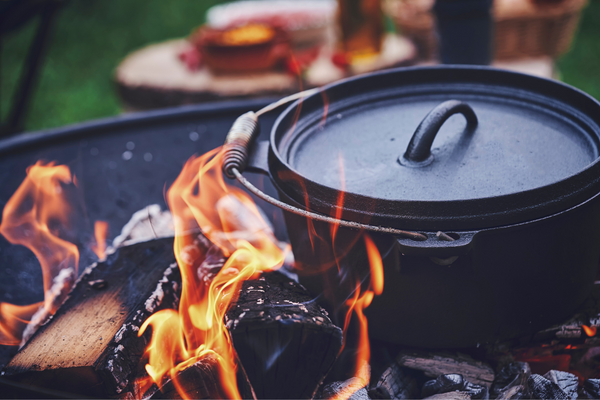 Campfire Pizza
This is a little more involved than the other camping recipes, but it's worth the effort. Roll out pizza dough and top it with sauce, cheese, and your choice of toppings. Place the pizza on a grill over the campfire and cook for about 10-15 minutes or until the crust is crispy and the cheese is melted.
Campfire Chili
This hearty and satisfying meal is perfect for a cold night around the campfire. Just cook ground meat, beans, and your choice of vegetables in a pot over the campfire. Add in canned tomatoes and your favorite spices, and let the chili simmer for about 30 minutes. Serve with cornbread or crackers.
Grilled Fruit Skewers
These sweet and easy-to-make skewers are a great dessert option. Thread your choice of fruit (such as pineapple, mango, and strawberries) onto skewers and grill over the campfire for about 2-3 minutes on each side or until the fruit is slightly charred and warm.
Spice Up Your Campfire Cooking With Fun and Adventure
These are just a few delicious camping recipes you can try on your next camping trip. Along with savoring tasty meals around the campfire, you and the family can partake in endless exciting activities around the park and visit The Water Zone this Peak Season at Mark Twain Lake Jellystone Park™! Plan early and snag your favorite campsite or cabin! We can't wait to welcome you back to another fantastic camping season!
Keep the Camping Adventures Coming With Deals Throughout the Year!