Celebrate a Camping Birthday Party at Jellystone Park™
Birthday parties at Mark Twain Lake Jellystone Park™ take a delightful twist from the ordinary to an outdoor extravaganza. Imagine a birthday bash nestled amidst the vibrant trees, under the open sky, with the chorus of birds adding to the cheer. That's the essence of a camping birthday here—nature, adventure, and a whole lot of fun!
Theme-tastic Birthday Bash
Themed birthday packages at Mark Twain Lake Jellystone Park™ are crafted to transport the birthday star and their guests into a whimsical world of fun and excitement.
Yogi Bear™ Pirate Package
Set sail on a pirate adventure with Yogi Bear™ as your captain. The pirate décor, a pirate photo backdrop, and a treasure of pirate patches and swords make for a swashbuckling celebration.
Cindy Bear™ Princess Package
Step into a royal realm with princess décor and a special visit from Cindy Bear™. The birthday child even receives a plush bear, making them feel like true royalty.
Boo Boo™ Budget Package
Keep it simple, sweet, and still spectacular with a visit from Boo Boo™, a Yogi Bear™ shaped birthday cake, and 1.5 hours of party time in a themed room.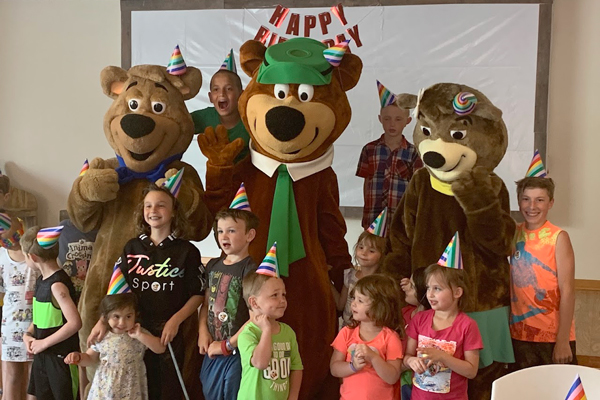 Dash of Extra with Camping Birthday Party Add-Ons
Make the camping birthday bash extra special with our add-ons. Choose to have your cabin decorated before your arrival, complete with cupcakes waiting to surprise the birthday star. Or invite a bear to your campsite carrying cupcakes, a birthday button, a Yogi Bear™ poster, and an 8" plush to add more smiles to the day.
Outdoor Fun Overflows
The adventure extends beyond the party room. Dive into the Water Zone, have a friendly laser tag competition or pan for treasures with gem mining. And that's not all! With a Jellystone Park™ Fun Pass, you can bundle activities and amenities, like water balloons, tie-dye T-shirts, and a pizza delivered to your site by one of the bears, for less!
A Token for More Adventures
Gift a Jellystone Park™ gift card to the birthday child for a promise of more outdoor fun. It's an open invitation to explore, play, and enjoy the myriad activities the park offers today and on future visits.
Ready To Elevate Your Little Camper's Birthday Celebration?
Mark Twain Lake Jellystone Park™ transforms a birthday party into an outdoor celebration packed with activities, laughter, and memorable moments. It's where the magic of childhood meets the wonder of nature, making every camping birthday party a cherished memory. Book your little camper's big day at Mark Twain Lake Jellystone Park™ and set the stage for a birthday filled with joy, adventure, and the great outdoors!