Get Hooked on Seasonal Fishing Tips
Mastering Mark Twain Lake and Enjoying Jellystone Park™
Ready to cast your line into the world of fishing? Whether you're a seasoned angler or just getting your feet wet, Mark Twain Lake and Mark Twain Lake Jellystone Park™ offer a fishing adventure that's second to none. From expert seasonal fishing tips to family-friendly amenities, let's dive into why this is your go-to fishing destination.
The Beginner's Pond – Jellystone Park™ Catch and Release Ponds
New to fishing? No worries! Mark Twain Lake Jellystone Park™ features two catch-and-release ponds that are perfect for beginners and families. These ponds offer a controlled environment that's ideal for teaching kids the basics of fishing. So grab your fishing poles and bait, and get ready to make some unforgettable memories with your little ones.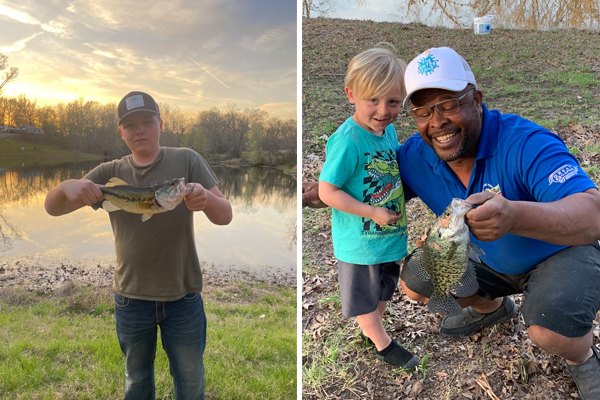 Reel in the Big One – Seasonal Fishing Tips for Mark Twain Lake
Mark Twain Lake is a fisherman's paradise, offering a diverse range of fishing opportunities. To maximize your catch, it's essential to understand the seasonal trends:
Spring Fishing
Spring is prime for crappie and largemouth bass, who spawn in shallow areas. Walleye also spawn in streams and along riprap banks.
Summer Fishing
Summer is great for largemouth bass in offshore ledges and crappie in deep brush piles. Walleye can be found patrolling ledges near flats.
Fall Fishing
Fall sees catfish and largemouth bass moving to shallower waters. Crappie and walleye also follow their food back to the shallows.
Winter Fishing
Winter is for deep-water fishing. Crappies suspend along ledges, catfish stick to deeper holes, and walleye head for creek and river channels.
More Than Just Fishing – Amenities and Activities at Jellystone Park™
When you're not out on the lake following our seasonal fishing tips, Mark Twain Lake Jellystone Park™ offers a plethora of amenities to keep everyone entertained:
Mini-Golf: Challenge your family to a friendly game. Loser has to cook dinner!
Camp Store: Forget something at home? Our camp store is stocked with all the essentials.
The Water Zone: Open seasonally, this water park is the perfect place to cool off and have some fun in the sun.
Home Away From Home – Accommodations
Mark Twain Lake Jellystone Park™ offers a variety of accommodations to make your fishing trip as comfortable as possible. Choose from cozy cabins, spacious RV sites, or rustic tent sites. Each option provides its own unique charm, making it the perfect base camp for your fishing adventures at Mark Twain Lake.
Conclusion: Your Fishing Adventure Awaits!
Whether you're a pro angler or a fishing newbie, Mark Twain Lake and Mark Twain Lake Jellystone Park™ have something for everyone. With our seasonal fishing tips and top-notch amenities, your fishing trip is bound to be an unforgettable experience.
Reel in Some Memories