Easy Campfire Recipes Using a Pie Iron
If you are into nifty campfire cooking gadgets, you may want to add a pie iron to your existing collection. Essentially a mini oven, a pie iron closely resembles and functions much the same way as a waffle iron (but with a long handle and lacking an electric cord). It consists of two concave metal plates connected by a hinge. It's a great piece of cookware to quickly and easily make meals like sandwiches, calzones, and empanadas; you name it! There are all sorts of easy campfire recipes using a pie iron, so campfire cooking becomes a cinch whenever–breakfast, lunch, and dinner time.
During your next stay at Mark Twain Lake Jellystone Park™, give these pie iron recipes a try and see what the family thinks. You may find you like this new method of cooking over the campfire. Move over hotdog and marshmallow roasting sticks!
Preheating Suggestions: Lay your empty pie iron in the hot coals of your campfire for a couple of minutes to preheat. Always exercise caution when handling pie irons, especially around kids.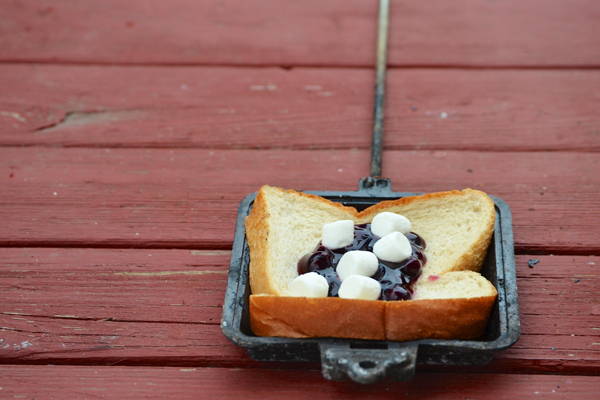 Campfire Recipes Using a Pie Iron
Egg In The Nest
If eggs and hashbrowns with your morning coffee sound good, you'll love Egg in the Nest.
Add your preferred helping of frozen hash brown potatoes, chopped onions, a dash of hot sauce, and butter to a well-oiled pie iron.
Close the pie iron and lightly brown both sides, cooking for approximately 3 minutes per side.
Next, reopen the pie iron and make a small nest or indention in the hash browns.
Crack one egg into this depression before closing up the pie iron.
Cook for 2 to 3 minutes on both sides for over-easy eggs, or only heat up one side for sunny side up.
Pie Iron Quesadillas
Every family member can personalize their own quesadilla using this next recipe! To begin, open up the pie iron and spray the inside with cooking oil. Place a flour tortilla on one half. Fill it with your favorite quesadilla items like:
Preferred cheese
Salsa
Roasted red peppers
Jalapenos
Precooked chicken, beef, or bacon
Then fold your quesadilla up into the pie iron and carefully close. Transfer it to the coals in your fire pit and turn it over every few minutes until brown on both sides.
Cherry Pie Pocket
You can't leave out dessert when it comes to campfire recipes using a pie iron! For this dish, each person will need two pieces of bread, cherry pie filling, and butter.
Butter one side of each piece of bread and lay the first slice butter-side down on the pie iron.
Add cherry pie filling to the center of the piece of bread, and then add the second slice of bread on top of the pie filling, butter-side up.
Close the pie iron and place it on the hot coals. Once the first side is toasted, flip the iron and toast the other side.
Once toasted, carefully transfer to a plate and let cool for about 10 minutes. Add a scoop of vanilla ice cream for à la mode style.
Campfire Cooking and The Cartoon Café
When you stay at Mark Twain Lake Jellystone Park™, you can try these and other campfire recipes using a pie iron at your campsite or cabin. But you and the family may want to get more than one, so everyone can enjoy cooking their own meal!
Of course. If you want a break from cooking, we can help! Leave the cooking to Mark Twain Lake Jellystone Park™ and the Cartoon Café while you relax on your vacation. We serve breakfast and lunch daily from 10:00am – 2:00pm during Peak Season. You and the family can savor delicious Boo Boo™ Burritos in the morning and a cheesy, delicious supreme pizza in the afternoon.
Get A Taste of Camping Adventure On Your Next Trip Here!