Items to Pack When You Bring Your Dog Camping
It's not a true family camping vacation unless everyone gets to come along for the fun- including your four-legged buddy. Mark Twain Lake Jellystone Park™ understands this. We are pet-friendly and welcome you to bring your dog camping at our RV sites or Fido-approved cabins. (Sorry, dogs are not permitted to stay on tent sites.)
Just like you and the family pack up essentials for a getaway, your pup needs their own supplies. To make this process a bit easier for you, we've put together a list of what to pack when you bring your dog along to Mark Twain Lake Jellystone Park™.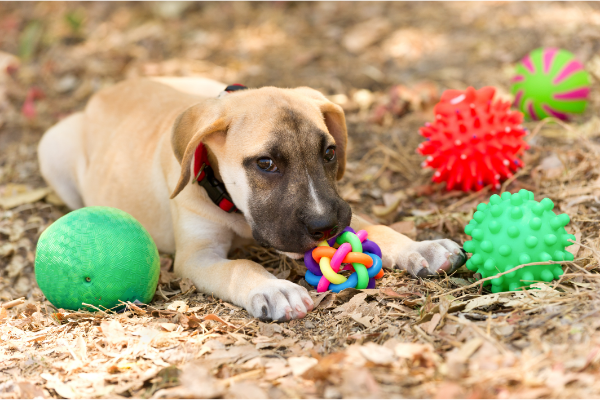 Dog Camping Essentials
Food and Water: Pack plenty of your pup's regular dry/wet food, and throw in some extra treats. Pack bottles of water to have on hand when you go for extended walks with Fido.
Bowls: Collapsible bowls store the best and make excellent portable water and dish bowls if you two are out exploring all day.
Harness and Leash: Always keep your pup on a leash (and harness if they typically wear one) whenever outside the RV or cabin.
Waste Bags: Be sure to pick up after your dog, as well. It's no fun stepping in a pile of poop.
Collar with ID Tags: Include an identification tag on your dog's collar and double-check to make sure the information is updated and accurate. As an extra precaution, get a temporary tag to add to your dog's collar that includes the name of the campground and your campsite/cabin number. Clip on an LED collar light at night to keep track of your dog while you are stargazing.
Comfy Cozies: Whether it's in a cabin or RV, make your pup's camping home as comfortable as home. Bring some of their favorite toys, blankets, and if a crate is where they typically sleep, bring that as well. The more familiar items, the better your dog will adjust to the new surroundings.
Proof of Vaccinations and Medications: Carry a copy of their medical records showing proof of vaccination wherever you bring your dog camping and be sure to have their medication on hand if they take it regularly.
You've got your human and dog camping checklists all set up. Once everything is packed and ready to go, it's time to get on the road and get to your destination, Mark Twain Lake Jellystone Park™. We cannot wait to welcome the whole family–pup included– and make your stay with us one to remember and cherish for many dog years to come!
BOOK YOUR STAY WITH US TODAY!