Campfire Games For Those Fall Camping Days
Fall has arrived at Mark Twain Lake Jellystone Park™ and so have the cooler temperatures, especially come sundown. Nothing beats ending a day of camping shenanigans than sitting around a roaring campfire with family and friends. And what better way to make this time extra special than by adding a few campfire games to the mix of conversations. No matter your age, everyone will enjoy participating in these delightfully fun challenges.
Try These Campfire Games with Friends and Family
Fortunately-Unfortunately
Someone begins a story with "There once was a skunk (or another animal)…" and finishes the sentence. That person picks someone else sitting around the campfire to keep the story going, only this time beginning their sentence with the word "Fortunately." Then that person points to someone new to continue the story with a sentence that starts with "Unfortunately." The more absurd the statement, the harder it becomes to continue the story. Continue the story as long as possible, with participants rotating between sentences that start with "fortunately" and "unfortunately."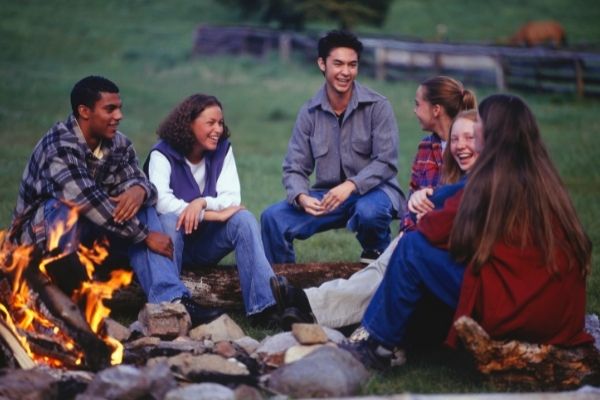 Jellybean Guessing Game
Campfire games can be good for the soul and good for your taste buds as well. In this next challenge, participants will use their sense of taste to win the game. All that is needed is a bag of various flavored jellybeans. A highly recommended product is Bean Boozled by Jelly Belly. These candies come in a box filled with a variety of sweet and not so tantalizing flavors like peach, juicy pear, buttered popcorn, stinky socks, old bandage, and booger. Pass the box/bag of jelly beans around the campfire circle and have each player select a jelly bean. Then, each person takes turns eating their candy and guessing the flavor. If anyone is unsure, check out the box and match up the color to find out.
I Went to the Camp Store
Test the old memory with this next campfire game centered around "camping" (of course). To play, one person starts by saying, "I went to the camp store and bought…" (Name a camping item beginning with the letter 'A' like "ax."). The next player chimes in with, "I went to the camp store and bought an ax…") and then follows it with another camping item, but it must begin with the letter 'B.' The third person continues, relating the sentence and previous items, and adds a new camping item beginning with the next letter in the alphabet. When someone relays the order incorrectly, they are out of the game. The game continues until the letter 'Z' or until one player is left in the game.
Fall Fun at Mark Twain Lake Jellystone Park™
Have your fill of fun campfire games and activities at Mark Twain Lake Jellystone Park™ before peak camping season ends. The final weekends (end of September into October) are full of spooks and surprises. So grab the family and join in on one or five consecutive Halloween Spooktacular Theme Weekends. Check out our Upcoming Theme Weekends and plan your frightfully fun-filled stay!
DON'T DELAY… RESERVE YOUR CAMPSITE OR CABIN TODAY!