Make Memories While Teaching Your Kids A New Skill
After months of your kiddies saying they are bored and need something to do, you can finally answer them: "Let's go fishing!"
Yes, fishing is one of those outdoor sports that are great for everyone from young to old and in between. If you're planning a late spring or summer vacay teaching your kids how to fish can be fun for everyone and if you're headed to Mark Twain Lake Jellystone Park™ in Monroe City, Missouri.
You can stay at Mark Twain Lake RV Resort where there are two well-stocked lakes on the premises. Fishing at this gem makes for a wonderful pastime for you and your kids to bond with Mother Nature.
Be sure before you go that you have the necessary equipment including a fishing rod for your child – make sure it isn't too big for the wee ones – along with fresh worms, a tackle box, net, and maybe a cooler to keep the catches in unless you plan to catch and release.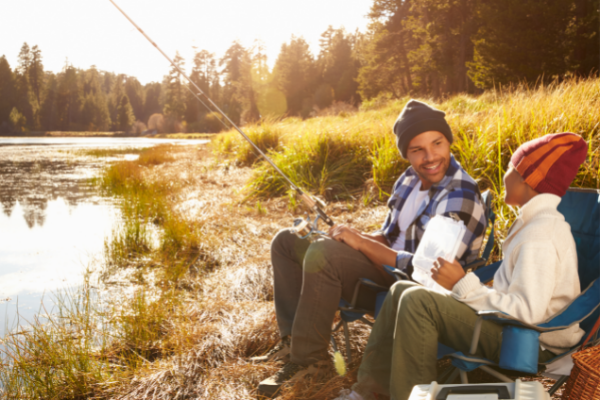 Get Ready
A few pointers for teaching kids to fish if they are new to it:
Start small. Don't expect your kids to sit in a fishing boat for hours on end in the beginning. Take them on a walk to see some fish swimming in the lake or water areas to get them inspired.
Teach them a few basics like how to hold the pole/rod, how a reel works, how the bobber works, etc. Be patient and don't expect them to know what to do right away, they will need your expertise. There will certainly be some tangled fishing lines and worms landing on the ground.
Bring snacks. Kids get hungry so pack some baggies with their favorite snacks so they can dig in when they feel a hunger pang or two.
Make sure they are wearing life jackets in a boat or if just standing and tossing a line into the water off a pier or edge of the water.
Check local regulations to see if kids at a certain age need a fishing license and prepare ahead of time.
Have a Blast
Most importantly is to have fun and enjoy the day with your kids fishing. If they feel at ease and are successful in catching a fish, they will want to go again and again.
We're filling up fast! Be sure to book your deluxe lodging, RV site, or tent site at the pet-friendly Mark Twain Lake RV and camping resort today.
Join us for our Grand Opening on May 22, 2021
Enjoy special BOGO savings: Reserve Friday, May 21st and stay Saturday May 22nd FREE! Book now using promo code BOGOGRAND2021.