Must-Haves For Your Halloween Weekend at Jellystone Park™
Halloween Spooktacular Weekends have arrived at Mark Twain Lake Jellystone Park™! Have you booked your stay yet? If so, be sure you are ready for any scary-good surprises that may come your way during your camping stay by packing these must-have Halloween weekend items!
Must-Haves For Your Halloween Weekend With Us
Costumes
Halloween is the one day a year you can dress up and be someone else for a day! During Halloween Spooktacular Weekends at Mark Twain Lake Jellystone Park™, you and the family can dress in a different consume every day of your stay if you'd like! Enter our costume contests for a chance to win a fantastic prize. And don't forget to get a costume for Fido! Your furry companions are part of the family too!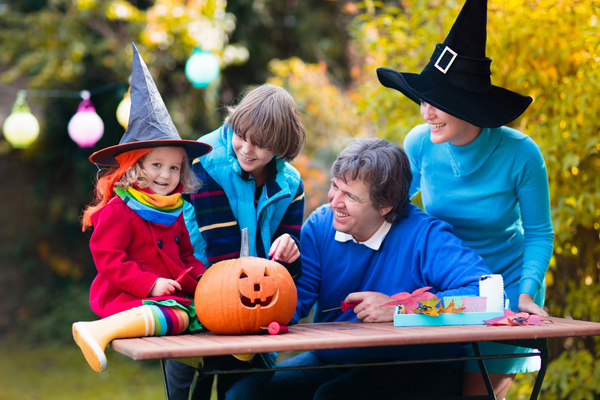 Trick-or-Treat Bags
Another fun activity families enjoy when they stay during a Halloween weekend is trick-or-treating! Be sure to pack bags for your little monsters to collect treats as they travel from one campsite and cabin to the next!
Loads of Candy
And speaking of trick-or-treating, avoid getting tricked by bringing candy to pass out! We typically estimate 400-500 kids at the park!
Spooky Decorations
What better way to set the Halloween mood than to decorate your campsite or cabin?! Not only does it help get everyone into a spooky spirit, but it's also a fun activity that everyone in the family can participate in!
You don't have to break the bank to make your site look fantastic! A quick trip to the dollar store or thrift shop and some creativity goes a long way!
Enter our parkwide decorating contest for a chance to win prizes! First-fifth places will be announced before the weekend festivities end.
Halloween Playlist
Add festive tunes to go along with your spooky campsite or cabin decorations. Create a playlist of popular Halloween-themed songs like
"Monster Mash" by Bobby Pickett
"This is Halloween" from The Nightmare Before Christmas soundtrack
"Superstition" by Stevie Wonder
"Somebody's Watching Me" by Rockwell
"Ghostbusters Theme" by Ray Parker Jr.
"I Put a Spell On You" by Bette Midler
"Thriller" by Michael Jackson
Glowsticks and Flashlights
These nifty supplies will come in handy in all sorts of ways. Throw a glow stick in your jack-o-lantern to keep it lit throughout the night. Give some to the kiddos to carry around when trick-o-treating so they are more visible. And use a flashlight to get around after dark, especially to safely navigate to the restrooms or take the dog out for one more potty break.
Don't Miss Our Final Halloween Spooktacular Weekends
Enjoy fun and loads of scares each Halloween weekend at Mark Twain Lake Jellystone Park™! Along with arts and crafts, games, pumpkin carving, and trick-or-treating, campers can get into the spirit of the season by competing in our costume and campsite/cabin contests for monstrous prizes!
Have a Hauntingly Good Time at Mark Twain Lake Jellystone Park™