Enjoy The Best Parts of Fall Camping At Jellystone Park™
The seasons are changing! Fall is nearly upon us! While summer camping offers an assortment of exciting activities for the whole family at Mark Twain Lake Jellystone Park™, fall camping is just as equally enjoyable! If you and the kiddos have never tried camping in the fall, we highly recommend it for all the following reasons and more!
Best Parts About Fall Camping
The Weather
Fall welcomes crisp, cool mornings and evenings–chilly enough to warrant a sweater or jacket. But if you and the family are out and about enjoying all the amenities and activities at Mark Twain Lake Jellystone Park™, you may want to dress in layers.
Depending on how warm you get, you can quickly pull off a layer while hiking on our trails, heading out to the catch and release ponds, or bouncing around on the jumping pillow. If you need to warm up the RV or add more wood to the campfire, we sell both propane and firewood on-site!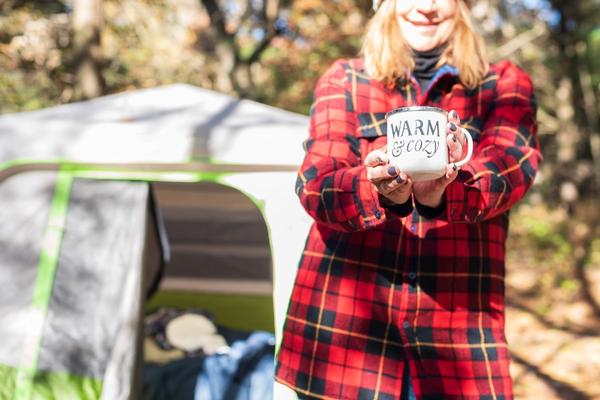 Camping Comfort Food & Hot Drinks
What's better than comfort food on a chilly day? Fall camping comfort food on a chilly day! Warm up around the campfire and soothe grumbling bellies with stews and chili cooked over a crackling fire. Sip coffee, hot cocoa, or a Warm Caramel Apple Drink that's sure to be a hit with everyone in the family.
To make, warm up apple cider over a fire or grill. Pour cider into mugs, top with whipped cream, drizzle on caramel, and garnish with a cinnamon stick. For an adult version of the beverage, before piling on the toppings, add a splash of dark rum.
Better Stargazing
Summer months mean long days and short nights, which equals less opportunity for stargazing. In the fall, the sun sets early for longer stellar sightings! If you or the kiddos are new to stargazing, take some tips from the experts:
Don't bother purchasing an expensive telescope when you first start. A pair of binoculars will do just fine and offers impressive views.
A whole host of apps use augmented reality to show what's in the sky and help track down objects you want to see. The more well-known apps include SkySafari, NASA, and Star Walk 2.
The best time for stargazing is when the moon is in a crescent phase or not visible in the sky.
Use a red light filter on your flashlight to preserve night vision.
Different Special Events
Book your stay during weekends in September and October and take part in the fall fun with beginning season celebrations and Halloween Spooktacular Weekends (5 weekends of hauntingly good fun, to be exact).
During the weekend of September 23rd, join Yogi Bear™ and friends at our Fall Country Carnival Weekend with games, food, and crafts as we welcome fall to Jellystone Park™!
And experience Halloween hysteria every weekend in October. Activities will include arts and crafts, pumpkin carving, costume contests, trick-or-treating, and a campsite/cabin decorating contest!
Have A Ball This Fall Camping With Family & Friends
There's much to take in and celebrate this fall camping season at Mark Twain Lake Jellystone Park™! Book a cabin or campsite and bring the whole family to make all new camping memories!
Fall in Love With the New Camping Season!