Nifty Camping Hacks To Make Tent Camping Even More Enjoyable
Tent camping doesn't have to mean "roughing it." At Mark Twain Lake Jellystone Park™, we offer tent sites overlooking our sparkling lake and just steps from essential facilities like clean restrooms and hot showers. Add in a full day of fun in the sun with our countless amenities and activities; you and the family will need some shuteye before fitting in even more adventure! The following camping hacks will make your tent super comfy and help your camping crew get a good night's rest.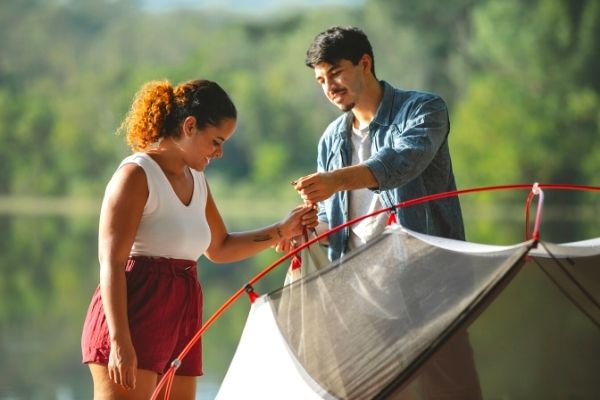 Tent Camping Hacks
#1 Assemble foam floor tiles on your tent floor.
Not only do these puzzle piece tiles offer a softer base and more cushion to sleep on, but they also provide a layer of insulation.
#2 Add padding under your sleeping bag.
Who says tent camping is limited to sleeping bags? Add extra softness and comfort with a cot, air mattress, or other sleeping pad. Campers have also used pool floats. And while you're at it, bring your pillow and favorite blanket or quilt.
#3 Purchase a battery-powered lantern or make a tent light.
Light up the inside of your tent at night. You can create a tent light by using a water jug and headlamp. Simply fill a jug with water and wrap it with a headlamp, light facing inward.
#4 Store shoes in a basket at the tent entrance.
Keep dirt out of your tent by making it a rule for everyone to take off their shoes before entering. Leave all the shoes in a container.
#5 Set out an outdoor rug.
Another way to keep dirt out of the tent and add a bit of a cozy look to your campsite is with a colorful and equally durable, all-weather outdoor rug. Take off your shoes, sit out on your camping chairs, and enjoy a card game on your comfy rug.
Of course, tent camping isn't the only way you can stay and play at Mark Twain Lake Jellystone Park™. Campers can opt for a spacious full hookup RV site, cabin, or room at The Steamboat Inn. However you and the family decide to camp, be ready for days full of exciting activities and events!
Enjoy All The Comforts and Exciting Ventures During Your Camping Getaway!