Camping Tips for Your 4th of July Trip
Spend your 4th of July weekend with us at Mark Twain Lake Jellystone Park™ and enjoy exciting activities, pool parties, cookouts, socials, and more! Make the most out of every second of your family holiday getaway with these fun and clever camping tips.
Camping Tips for Your 4th of July Trip
Book Your Stay Early
Early planning is crucial to snagging a spot when it comes to booking a camping stay during the summer holidays. So reserve your cabin or campsite as soon as possible. And if your favorite site is available, you are guaranteed the specific unit/site number by paying the applicable $25 lock-in fee at booking.
Set the Ambiance
Show your pride in the red, white, and blue with a festive campsite. Hang lights, streamers, or banners from your RV awning. Decorate your site's picnic table with a patriotic-themed tablecloth and centerpiece, and display American flags around your RV, tent, or cabin. Your merry masterpiece may win first prize in our Independence Day Site Decorating Contest.
Dress for the Occasion
Along with special events and activities, campers can join Yogi Bear™ in our Annual 4th of July Parade around the park by decorating their golf carts and bikes. Whether you are planning to participate in the parade or join the crowd of spectators, pack some fun patriotic wear for the event! Wear only red, white and blue attire complete with star necklaces, sunglasses, and hats.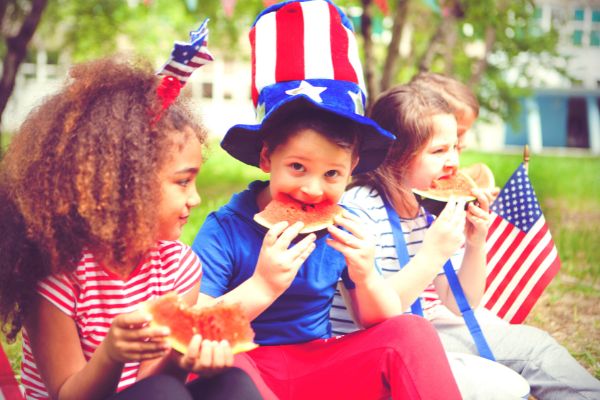 Prepare Some Patriotic Goodies
Serve up a side of 4th of July treats for the occasion. Something as simple as a tray of sliced strawberries, white-chocolate covered pretzels, and fresh blueberries will do just fine.
Or try this Watermelon Patriotic Pizza. First, slice the watermelon into desired thicknesses and pat dry on both sides with a paper towel. Next, top each slice with whipped cream and add blueberries, raspberries, and sliced strawberries to make a flag or other design.
Add Some Fun Extras for the Kiddos
The best part about your 4th of July family trip is getting the kids involved with these camping tips. Let them come up with decorating ideas and help prepare patriotic treats. Then surprise them with some fun extras like super cool 4th of July-themed temporary tattoos or patriotic glow wands for the big weekend.
There are tons of camping tips that you can incorporate in your 4th of July trip to Mark Twain Lake Jellystone Park™! Between the park festivities, on-site activities and amenities, The Water Zone, and quality time with family and friends, this is one camping venture you won't soon forget!
Spend A Festive and Fun 4th of July With Us!