RV Camper Tips: How To Make RV Setup A Cinch
Setting up for RV camping adventures at Mark Twain Lake Jellystone Park™ doesn't have to be a time-consuming process. With a bit of pre-planning and practice, you and the family can arrive, settle into your site, and get to all the activities and attractions (including The Water Zone) quicker than you can say, "It's because I'm smarter than the average bear!" Here's how to make RV setup a cinch!
Tips To Make RV Setup Easy
Tip #1: Arrive at Check-in or Shortly After
Arriving early at the campground gives you plenty of time to set up at a comfortable pace, with no pressure. Who wants to be stressed out on vacation time? Check-in time for campsites at Mark Twain Lake Jellystone Park™ is 1:00pm, so campers have many daylight hours to get situated in their spot, hook up, and arrange their outside space how they like.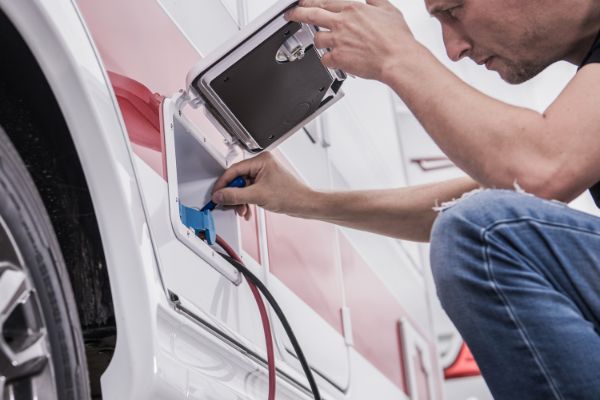 Tip #2: Know How to Park Your Rig
For some RVers, particularly those new to RVing, backing up into a site can be the most challenging and time-consuming part of arriving and setting up at a park. If you feel like you are a part of this novice group, it never hurts to practice backing up your rig a few times before taking off on your camping trip.
Locate an empty parking lot to practice in one morning or afternoon. Bring your traveling partner as your extra pair of eyes (or spotter). During this time, familiarize yourself with how the rig moves when you turn the wheel in different directions. Try to back up in between parking space lines or use cones.
Utilize walkie-talkies to communicate with your spotter or come up with hand signals for instructions like stop, continue backing up, move to the left or right, etc. If you have a backup camera, use that as well.
When you finally arrive for your much-awaited camping vacation at Mark Twain Lake Jellystone Park™, survey your campsite before proceeding to back in. Check where the hookups are located and if you can safely extend your slides.
…Or book a pull-thru RV site.
Of course, back-in RV sites are not the only option available at Mark Twain Lake Jellystone Park™. For quick and easy entry into your campsite, we also offer pull-thru RV sites!
Tip #3: Have a Setup Checklist Handy
After you've finished backing up or pulling into your RV site, it's time to hook up and begin enjoying your stay. To get through this setup process seamlessly, consider creating a "Setup Checklist." Include tasks like leveling the rig, hooking up to power, extending the slideouts, and putting out your camping chairs. The specific steps you take will depend on your RV, as various rig types are set up differently.
You can make an RV setup checklist by first recalling the steps with your traveling partner. Then double-check and add to/modify the list as needed as you settle into your campsite. This will become your official checklist!
So Many Ways to Camp With Us
RV camping isn't the only type of camping you can enjoy when you stay at Mark Twain Lake Jellystone Park™. We offer tent and cabin camping options if RVing isn't your thing. However you plan to get away, just like with an RV setup, a camping vacation requires some preparation to ensure a great experience.
Get Setup For A Memorable Camping Adventure