Fun Ways to Stay Cool at Mark Twain Lake Jellystone Park™
As the summer heat rolls in, finding ways to stay cool becomes a top priority for outdoor enthusiasts. If you're planning a visit to Mark Twain Lake Jellystone Park™, you're in luck! Our family-friendly vacation destination offers a gamut of activities and amenities to help you beat the heat and make the most of your summer. From thrilling water adventures to shaded retreats, here are our top recommendations for staying cool at Mark Twain Lake Jellystone Park™.
Fun Ways to Stay Cool at Mark Twain Lake Jellystone Park™
Make a Splash at The Water Zone
Prepare for an aquatic adventure at The Water Zone! Plunge into the wave pool, glide down thrilling water slides, or spin through the space bowl. For a more relaxed experience, hop on a tube and float along the lazy river. The waterpark offers endless fun and ways to stay cool for visitors of all ages.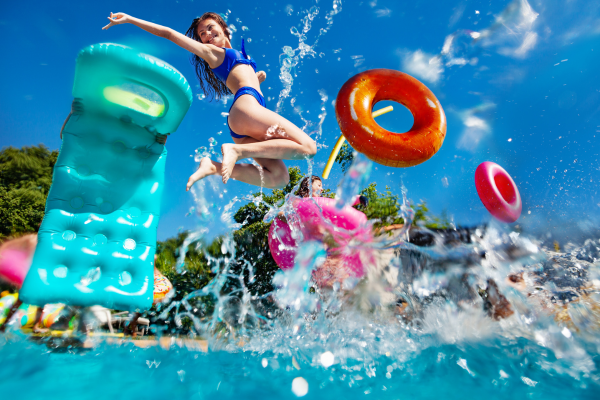 To Elevate Your Waterpark Experience, Consider Renting a Cabana
These private, shaded spaces provide a cool and comfortable spot for your group to relax and unwind between thrilling water adventures. Kick back, enjoy some refreshments, and bask in the luxury of your own little oasis.
Seek Shelter in Air-Conditioned Cabins
Escape the scorching heat by booking one of the park's air-conditioned cabins. These cozy accommodations provide a comfortable haven where you can relax, recharge, and take a break from the sun. Unwind in the cool interiors, and emerge ready for more outdoor adventures.
Enjoy Shaded Tent Sites and Full Hookup RV Sites
For those who prefer more traditional camping, Mark Twain Lake Jellystone Park™ offers shaded tent sites and full hookup RV sites. Set up camp beneath the trees and take advantage of the natural shade during the day. You can enjoy outdoor activities while having a shaded retreat to return to when the sun gets too intense.
Dive Into the Swimming Pool
Take a refreshing dip in the swimming pool, a perfect spot for cooling off during hot summer days. Whether you're looking to do some laps or simply relax on a poolside lounge chair, the swimming pool offers a convenient way to beat the heat while enjoying the park's amenities.
Prepare For an Epic Water Balloon Battle at Jellystone Park™'s Water Wars!
Grab your water balloons, team up with friends or family, and get ready for a friendly and exhilarating water-based combat. It's a splashing good time that will keep you cool while enjoying some exciting and laughter-filled competition.
Indulge in Ice and Cold Drinks at the Camp Store
Stocked with ice and cold beverages, the store is the perfect place to replenish your supplies and quench your thirst. Grab an icy drink and let the coolness rejuvenate you for more adventures.
Treat Yourself to Ice Cream Sundaes and Root Beer Floats
For a sweet and chilly treat, make your way to the Cartoon Café. Indulge in delicious ice cream sundaes and classic root beer floats. These delightful treats will not only satisfy your cravings but also provide a refreshing respite from the summer heat.
So, as the temperatures rise and the summer sun beats down, remember to take advantage of these fantastic ways to stay cool at Mark Twain Lake Jellystone Park™. Plan your visit this summer and create memories that will last a lifetime.
Explore All Jellystone Park™ Amenities!