Discover Unique Camping Experiences at Jellystone Park™
Hey there, happy campers! Looking for a unique camping experience that blends the traditional with the unconventional? Pack your bags and gather the family—it's time to head to Mark Twain Lake Jellystone Park™!
Embrace the Great Outdoors
Jellystone Park™ includes the familiar joys of traditional camping. For those who love the classic and unique camping experience, our tent sites offer the perfect opportunity for you and your family to unplug and reconnect with nature​.
If your family prefers the comfort and convenience of your home on wheels, we provide a variety of RV sites. We've got the space and amenities to make your stay as relaxing or adventurous as you want it to be.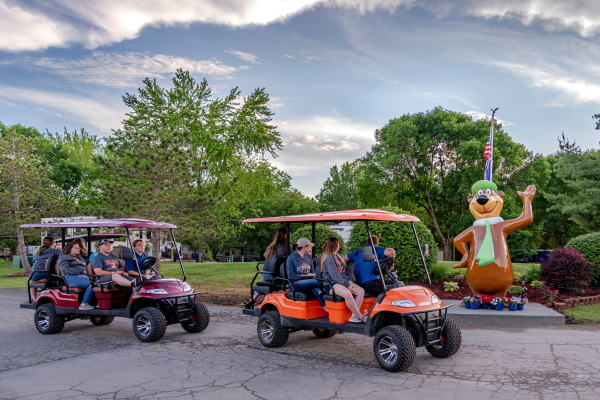 And let's not forget about the fun activities on a traditional camping trip! Picture yourselves casting a line for a relaxing afternoon of fishing, diving into the refreshing pool for a swim, and gathering around a campfire as dusk falls. Toast marshmallows under the stars and share stories that become cherished family memories​​.
Beyond the Traditional: Unique Camping Experiences Await
Now, let's shift gears and explore the unconventional side of things. At Mark Twain Lake Jellystone Park™, we take camping to a whole new level with a myriad of lodging options that deliver comfort, convenience, and a dash of luxury. Whether you're a family of four cozying up in the Steamboat Inn or a larger group occupying the spacious Lakeside Lodge, we have a cabin to fit your needs​​.
Fun-Filled Activities for the Whole Family
But the fun doesn't stop at just choosing your accommodation. How about splashing around in The Water Zone waterpark or taking a break from the sun for a bite to eat at our Cartoon Cafe? Participate in our theme celebrations that keep the excitement going all season long. And make your visit extra special by arranging a  visit with Yogi Bear™ himself!
Explore at Your Own Pace
For those who enjoy a leisurely ride around the park, we have golf cart rentals available. Explore our beautiful grounds at your own pace, and make sure to take plenty of family photos along the way.
Your Family's Unique Camping Adventure
At Mark Twain Lake Jellystone Park™, we've taken the best of traditional camping and added our own unique flavor to create an unforgettable family adventure. Whether you're a seasoned camper or trying it out for the first time, we offer a unique camping experience like no other. Come join us and create memories that will last a lifetime!
Don't Miss Out on the Fun