Igniting a Love for Campfire Cooking With Your Kids
Camping is a great way to enjoy the outdoors and bond with your family, but it can be even more fun and memorable when you add in the joys of campfire cooking. Cooking over an open flame may seem intimidating, especially when you have kids to consider, but with some preparation and guidance, it can be a rewarding experience for everyone. In this article, we'll share some tips and tricks for introducing your kids to the art of campfire cooking, from building a safe fire to making delicious meals that will have them begging for s'more.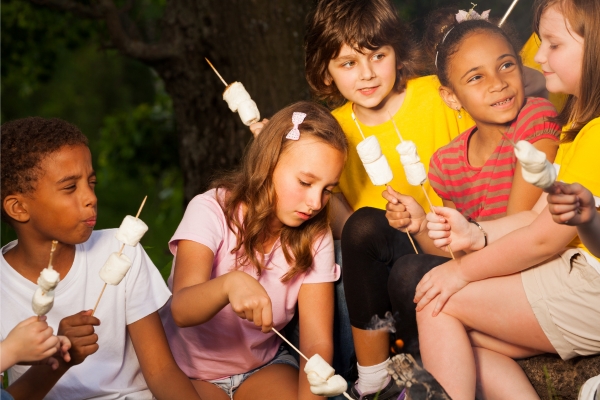 Fun and Safe Ways To Teach Your Kids Campfire Cooking
Start Simple
When it comes to campfire cooking, it's best to start with simple recipes that don't require a lot of equipment or expertise. Consider making classic campfire meals like hot dogs, roasted marshmallows, and s'mores. Introduce more involved recipes as your kids get more comfortable cooking over the fire.
Involve Your Kids in the Planning Process
Encourage your kids to help plan the menu for your camping trip. Ask them what they'd like to eat and involve them in the grocery shopping and meal prep. This will give them a sense of ownership and help them feel invested in the cooking process.
Teach Them Fire Safety
Before you begin cooking with your kids, educate them on fire safety. Take the time to teach them how to safely build and maintain a fire, and stress the significance of never leaving a fire unattended. Also, show them how to extinguish a fire properly and emphasize that they should never play with fire.
Use Age-appropriate Equipment
When it comes to cooking over a campfire with children, it's important to use age-appropriate equipment. Younger kids may need shorter skewers or cooking utensils that are easier to handle, while older kids may be able to manage longer skewers and heavier or more complex cookware.
Hone in On the Fun
Cooking over a campfire should be a fun and enjoyable experience. Motivate your kids to get creative with their cooking and to experiment with different ingredients and flavors. Let them know it's okay to make mistakes and that the most important thing is having fun.
Clean Up Together
After you've finished cooking, clean up together. This will teach your kids the importance of leaving no trace and caring for the environment. Properly dispose of any food scraps and pack out all trash.
Make Campfire Cooking a Breeze at Mark Twain Lake Jellystone Park™
At Mark Twain Lake Jellystone Park™, we make it easy to enjoy campfire cooking. Our cabins and campsites are outfitted with fire rings, and we sell firewood at our camp store along with other campfire supplies and snacks. So, gather your family around the fire, cook up some delicious food, and create memories that will last a lifetime. We can't wait to see you soon!
Cook Up Some Family Fun at Mark Twain Lake Jellystone Park™