Rev Up for Bicycle & Golf Cart Halloween Decorating Tips
The air is crisp, the leaves are falling, and the Halloween Spooktacular Weekends at Mark Twain Lake Jellystone Park™ are just around the corner! If you're as excited as we are, you're probably already planning your costume, brainstorming decorating ideas for your cabin or campsite, and gearing up for the contests. But did you know we also have a contest for the best-decorated golf carts and bicycles? Let's dive into some Halloween decorating tips to make your ride the talk of the park!
Halloween Decorating Tips
Tip 1: Pick a Theme
Before you start decorating, choose a theme. Whether it's a haunted mansion, a witch's ride, or based on a favorite superhero movie, having a theme can guide your decoration choices and make your ride stand out.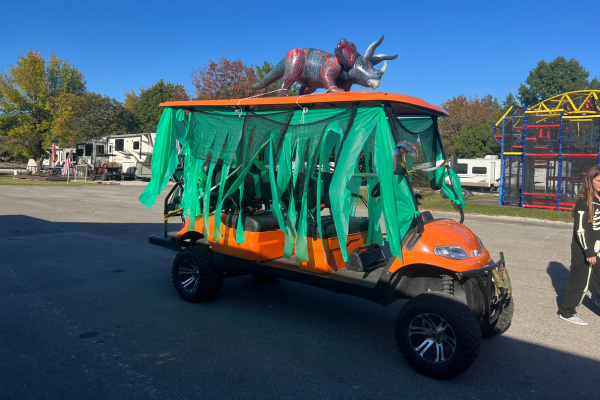 Tip 2: Light It Up
Battery-operated LED lights or glow-in-the-dark accessories can transform your ride into a glowing spectacle when the sun goes down.
Tip 3: Match Your Costume
Elevate the fun by coordinating your costume with your ride's theme. If your golf cart is decked out as a pirate ship, dress up as a pirate captain!
Tip 4: Play Some Tunes
A portable speaker playing Halloween-themed music or eerie sound effects will set the mood and turn heads.
Tip 5: Temporary Decals and Stickers
Jazz up your ride with removable spooky designs. They're a breeze to apply and take off.
Safety Tips
Tip 1: Safety First
One of the most critical Halloween decorating tips – always make certain decorations don't obstruct your view or hinder the vehicle's operation.
Tip 2: Stay Visible
Especially for bicycles, using reflective tapes or stickers helps guarantee you're seen by others during nighttime rides.
Tip 3: Balance is Key
If attaching more oversized items, verify they're securely fastened and balanced to prevent any mishaps.
Tip 4: Park Guidelines
Always double-check the park's rules to confirm your decorations are in line with their guidelines.
With these Halloween decorating tips, you're all set to make a grand entrance at Mark Twain Lake Jellystone Park™. If you don't have a golf cart, no worries! You can easily rent one from us. It's best to add a golf cart rental when you book online ahead of time. Waiting until you arrive at check-in might leave you disappointed as they tend to get booked up quickly. 
Beyond the contests, our Halloween Spooktacular Weekends are packed with activities like the Magic Pumpkin Patch, Haunted Trail, Trick-or-Treating, and much more. So, gear up, get decorating, and let's make this Halloween season unforgettable!
Ready for a Wheel-y Spooky Time?