Packing Tips for Campers: Avoid Overpacking On Your Next Family Trip
While it's important to always be prepared on a camping trip, realistically, when packing for the entire family, stick with the basics, meaning pack only what you need and nothing more. Not only will this save space, but it can also minimize stress preparing for your fun-filled vacation getaway to Mark Twain Lake Jellystone Park™. The following packing tips for campers can help you avoid the overpacking dilemma.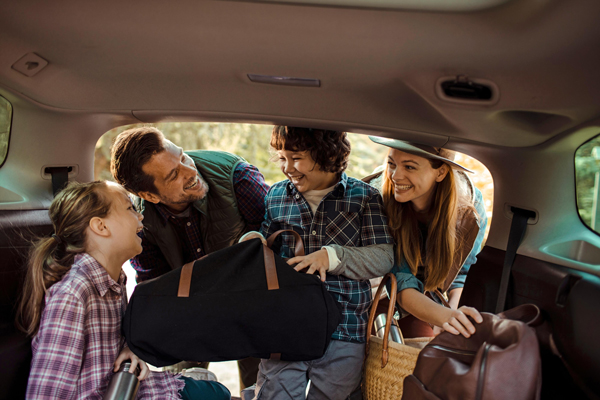 Packing Tips For Campers
Stick With the Basics When it Comes to Clothing Options
Besides personal items and toiletries, pack comfortable clothing that can be mixed and matched, including layers for cooler temps at night. In other words, the number of outfits for each person should not outnumber the days you plan to stay.
Mark Twain Lake Jellystone Park™ conveniently offers a laundromat. So if you and the family stay longer than a few days, you can always run a load. Then everyone will be all set for more camping fun.
Prep Meals in Advance
Enjoy cooking around a campfire or in the comfort of your RV or cabin rental with minimal prepping involved. Make more time for fun on your family vacation by preparing ingredients and dishes beforehand. Ingredients and dishes that won't spoil if prepared and refrigerated a couple days in advance are:
Burritos
Pancake mix
Pre-cooked or instant noodles
Chili
Casserole
If you forget or are running low on snacks or drinks, you can always pick up supplies at the camping store. Or grab a bite to eat (breakfast, lunch, and dinner) at the Cartoon Café, open seasonally.
Bring Along Regular Camping Gear
The last of the packing tips for campers involves camping gear. When you camp at Mark Twain Lake Jellystone Park, you don't have to pack much camping gear. We provide all sorts of camping activities (with gear included) as well as many of your campsite needs like grills, fire pits, and even cable TV at our RV sites and cabins. So you'll really only need to bring the essentials that make your campsite feel like home, such as camping chairs and flashlights.
Some families like to ride their bikes around the park to get to different activities quicker. However, if you'd rather leave the wheels at home, we do offer golf cart rentals so you can get to where you want to go in the park in a fraction of the time.
The 2022 Camping Season Is Just Around The Corner
The Steamboat Inn is currently open for guests to enjoy at Mark Twain Lake Jellystone Park™. But once mid-April comes around, cabins, RV sites, and tent sites will be open to campers! Of course, you can reserve one of these accommodations early and be one of the first to celebrate the 2022 camping season with Yogi Bear™ and friends! Simply book online and then use the packing tips for campers to get the whole family ready for an unforgettable stay!